As a team of highly experienced sales and marketing professionals, we have been fortunate to work with some of the biggest brands in the world for over 15 years. We understand that sustained revenue growth is a critical component of any successful company, which is why we have developed the Sales and Marketing Success Path. Our proven framework is designed to guide companies towards achieving their revenue goals and thriving in today's competitive marketplace. With our expertise and guidance, your company can be on the path to success and growth.
Having an attractive brand is essential for any company, as it helps create a positive and lasting impression in the minds of consumers. An attractive brand can differentiate a company from its competitors, build trust and credibility, and increase customer loyalty. It can also help attract new customers, drive sales, and ultimately, increase revenue. An attractive brand can communicate the company's values, personality, and vision, making it more relatable and memorable to consumers. Therefore, it is crucial for a company to invest in creating and maintaining an attractive brand to ensure long-term success and growth.
A positive ROI marketing funnel is vital for businesses, ensuring profitable returns from marketing efforts. It offers insights into marketing strategy effectiveness, enabling optimization and budget allocation to high-performing channels. Lacking a positive ROI marketing funnel risks wasting resources on unproductive campaigns, making it crucial for maximizing profits, informed decision-making, and long-term business success.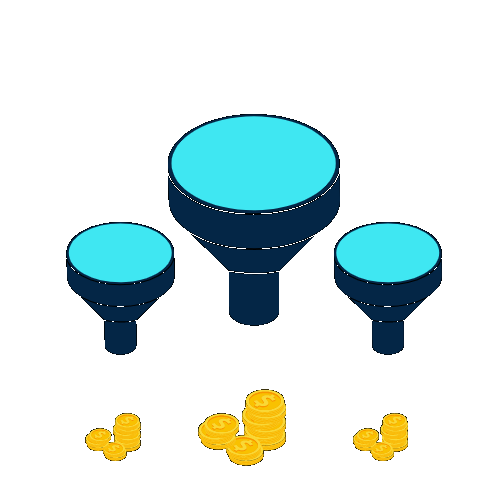 Multiple Funnels with Positive ROI
Implementing multiple positive ROI marketing funnels is essential for companies to diversify efforts, maximize revenue, and reduce market vulnerability. This approach broadens audience reach, tests strategies, and targets different segments with tailored messages, increasing conversions and retention. Gaining insights from various funnels enables efficient resource allocation, funnel optimization, and informed decision-making for long-term success and growth.
Automated management of marketing funnels
Automating marketing funnels is crucial for streamlining efforts, reducing errors, and increasing efficiency. Automation saves time and resources, enables personalized communication, and boosts engagement, loyalty, and revenue. It also provides data for campaign optimization and informed decision-making, helping businesses adapt quickly and stay competitive for long-term success and growth.
We recognize that each business requires a unique approach to improve marketing and sales. Our team conducts a thorough assessment to understand your goals, audience, and current efforts. We identify gaps and inefficiencies, providing customized recommendations and strategies tailored to your needs. Through collaboration, implementation, and continuous data-driven analysis, we optimize your campaigns for maximum ROI, ensuring a personalized solution to achieve your business goals and success.
We will complete an
Assessment

to determine where your company is in the

Marketing & Sales Success Ladder.
We will complete an
Assessment

to determine where your company is in the

Marketing & Sales Success Ladder.
Our comprehensive assessment identifies improvement areas in your marketing and sales efforts, focusing on four key aspects: brand, digital footprint, marketing fundamentals, and marketing funnel analysis. We evaluate each aspect to develop a customized approach for your success. Our recommendations, based on one of our four stages of sales and marketing success, guide you in optimizing marketing efforts and driving revenue growth.
Brand health analysis
Brand competitor analysis
Brand character and
tone analysis
Keyword analysis
Website UX/UI analysis
Website performance analysis
SM Saturation analysis
Social listening analysis

Product portfolio
Portfolio management analysis
Price benchmarking
Brand health analysis
Brand competitor analysis
Brand character and
tone analysis

INTERESTED IN OUR SERVICES?
Are you ready to increase your website's conversion rates and drive more revenue for your business? Contact us today to learn how our conversion rate optimization services can help you achieve your goals. Our team of experts will work with you to develop a customized approach to improving your website's user experience and driving more conversions. Don't wait, take the first step towards optimizing your website for success and contact us now!